Discrimination

The trans community is the most shamed and talked down to compared to the rest of the LGBTQ+ community. So much so that even some of the individuals that are part of the LGBTQ community itself are transphobic and shun them. Since we're in a more modern time we dont usually see this discrimination first handed but it still is a very big problem in our current world, but it's just swept under the rug and never talked about. A few examples of transphobia in the LGBTQ community and just, in general, is the "lipstick lesbian flag" which was created in the early 2000s with the meaning of that flag discluding the transgender and masculine lesbians, And even in 2021 there were a total of 50 transgender murders in the US with most being black or Latin having it increased since last year, and I also have collected some personal experiences from friends of mine that have sadly encountered a large amount of hate, from them being called slurs to some getting physically hurt.
The lipstick lesbian flag was created in 2010 by a woman named Natalie McCray. The colors consisted of purple, pink and white and had a lipstick print on the left-hand corner. "Lipstick lesbian" was a term that was mostly used in the 1970s to the 1980s. The term was used to market fem on fem lesbian porn to cis/straight men during those times. The term was invented because of the huge stereotype of all lesbians being very masculine, so it discluded all masculine, and transgender lesbians that were a problem and the flag made were soon realized to be offensive, and some lesbians later on that year removed the lipstick icon from the flag but many lesbians even after that felt offensive to the flag knowing the origins of its originals colors and how the maker of the flag was biphobic, and transphobic and even once called masculine lesbians fake women. Knowing this the original lesbian flag used in our modern time was created. The flag was an issue for many transgender women as it was made to specifically discriminate against transgender lesbians, And there are even some women that still use the flags knowing the meaning behind them. Now how does this relate to how the trans community is being discriminated against? Well, it is pretty self-explanatory, Lesbians within our community would shun them, not support them, Call them names, Call them not real women, And even with some of my friends experience she told me, once a lesbian has called her a rapist male that's just trying to take advantage of women. "Coincidences like this with trans women hurt the most", With way females should also understand the hate that they get and the freedom they fight for, Many trans lesbians often rely upon comfort from women, and receiving hate from them can and is a lot more damaging compared if the hate came from a cis man, Especially if the women doing the hate is amongst around or is in the same generation (the younger generations that is).
In 2021 there was a total of 50 confirmed transgender deaths occurred. Making it 6 more deaths than in 2020 and most even considered 2020 the worst year and had one of the highest transgender murders compared to all the other reported years which they started collecting in 2013. A good amount of those deaths were Latino/black transgender women, and even a 16-year-old boy was brutally murdered alongside one of his other transgender siblings. What's even worse about all these cases of these people being murdered is that there already is a huge amount of transgender murders that get unreported or misreport, which means theirs most likely a higher number than the 50 which are confirmed as most of these murders get swept under the rug, While reading one of the articles published on behalf of the 16-year-old transgender boy and his nonbinary sibling it once states "More than 10,000 hate crimes in the U.S. involve a firearm each year, which equates to more than 28 each day" So you could also possibly imagine what the death numbers could be if they were reported.
Every year, even as the trans community becomes more and more visible in popular culture, they are still targeted for hate crimes by bigots and are disrespected by members of their communities. Transgender children are still kicked out of their homes and are often forced into homelessness. As a society, we need to step up and come to realize that the transgender community is people too. Transgender individuals are human. They have rights.
and nothing they do can affect you. Children should be able to live their childhood without any trauma. Teenagers shouldn't be kicked out of their homes for trying to be who they are deep inside or be forced to keep their true self secret, And most importantly we should love those close to us, and support them until the end, Love is Love.
Leave a Comment
About the Contributor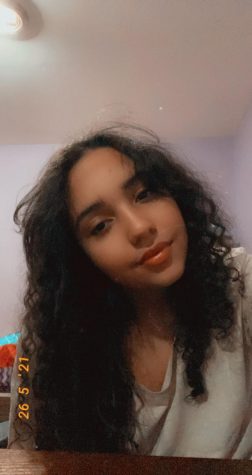 Amanda Marcos, Editor/Writer
I am a senior in North High school and work on editing the articles for The Arctic and part of the LGBTQIA+ community and writing about it. I enjoy creating...