Senior Fever
Senior Athletes At North High Reflect On Their Last Year.
Highschool is a tough time for everyone without a doubt. New classes, new surroundings, bigger environment, etc. Stress of keeping up with academics and paving your way to graduation, it's a scary time. Throughout these scary and unfamiliar times kids need a sense of security and support to help them get through the years. For some people it may be making new friends, running for school office, joining clubs, etc.
For a lot of kids they turn to sports. Joining a sports team such as football, soccer, cheer, basketball, etc. allows you to become a part of something bigger than yourself. Sports teach kids teamwork, responsibility, resilience, discipline, development, respect, and a ton of other important things that they can apply to their everyday life. Being with your teammates day in and day out and competing side by side with them regularly forms a bond that can last a lifetime, for many kids a team is just as good as a family. 
High School sports are as good as it gets, you're not too young to be unable to grasp the good thing you have going on but also not too old that you're no longer playing for fun but playing simply competing like playing college level or higher. We've recently talked to a few senior athletes and asked what their experience has been playing sports here at North High and how they feel with this being their last year playing highschool sports.
KOFI APEA
 Kofi Apea is a soccer player here at North High. Kofi played for the North soccer team his sophomore and senior year. He plays forward and defense.Kofi scored the winning goal against Auburn that qualified them for the playoffs. We were able to chat with Kofi and ask him some  questions regarding his last soccer season here at North. "I feel good playing my senior year knowing that it's my last year of High School and playing during this time definitely gonna bring back good memories when I'm not. Just knowing I have to play with my friends on the team just one last time in High School makes me wanna cry and play my hardest to make a good impact in the school and the team. I wished we could play a little bit longer but that's life we all have to go and leave at some point." -Kofi (Soccer player). 
RENEDIEL LIRIANO
Renediel Liriano is a football player here at North High, he's been on the team since his freshman year. He played many positions such as corner, safety, and receiver. More recently he's played outside linebacker on defense and wing on offense. So far this season Renediel has 173 rushing yds, 12 tackles, 10 carries, a 22 yd catch, and one touchdown against Keefe Tech. Renediel had a few things to say regarding "It feels great playing my last year of highschool football, knowing that this is it i'm enjoying every minute of it. I have no regrets for any past season because if i never made mistakes and learned from them i'd probably be making them now which would impact me more due to this being my senior year. Hopefully this season we can make the playoffs and if that's not something we can accomplish then hopefully we can work our hardest to have a positive record for the season. While playing football throughout my years in highschool I've learned many things including respect, team work, and self responsibility. As far as football goes after highschool i don't have any big plans unless something presents itself."   -Renediel Liriano (Football player). 
KAYLA VUONG
Kayla is a volleyball player here at North, she's been on the team her full highschool years. She was co-captain this year. Kayla played the middle position during her 4 years on the North team. Kayla had a few things to say about her time here on the girls volleyball team. "I feel sad knowing this is my last year playing volleyball at North. Volleyball has allowed me to make so many memories and friendships. Some things that volleyball has taught me is patience, you have to be calm and play smart in an intense game and also never lose confidence .I plan on playing volleyball in college. I wish I was more open and not shy playing my freshman year. Other than that I have no regrets regarding my past years playing here at North." Kayla Vuong (Volleyball player). 
DIONElIS TEXIDOR
 Dio has been a cheerleader for the majority of her life and more recently the  past 4 years here at North. Dio is the cheer captain this year for the team. We had the pleasure to get some insight from Dio regarding her last year." It's bittersweet I'm excited for the year and can't wait to see what this brings but I know I'm going to miss the coaches and my teammates when the season ends. I'm trying not to stay stuck in the past, all the mistakes that happened made me into a better athlete so i'm grateful for all of them. We plan on competing this year so I hope we bring a couple of titles back.Some things I've taken away from cheer is responsibility, leadership and teamwork. I plan on cheering in college hopefully."
Leave a Comment
About the Contributor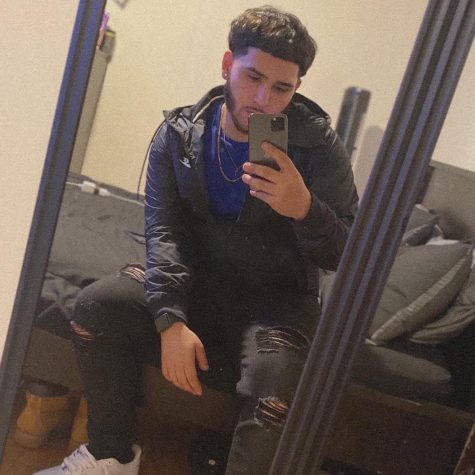 Keanu Garrigan, Sports Editor
I'm Keanu Garrigan, I'm a student and also an athlete here for North High. I played football here for my freshman and senior year. I'm a writer for the...