National Guard Train for New Role: Bus Drivers?
The National Guard Are Being Deployed To Ride The School Buses In Worcester.
When the new school year is about to begin, after students being away for the whole year because of Covid they will be returning to school. But there was a huge issue that caught everyone off guard and it was that there was a shortage of school bus drivers. This issue was not only in Massachusetts but it was all around the country. Many states were struggling and some states had students stay remote since they couldn't hire enough drivers. For Massachusetts the governor Charlie Baker has deployed 250 national guard members to drive school buses. For the national guard members they have to complete a vehicle and safety training before they can drive the bus. 
One of the latest communities is Worcester that has received help after reporting shortages in bus drivers and several delays on bus routes. The double A transportation have supplied the National Guard within the district with 10 of 7-D vans that they can drive. The capacity of the vans is 8 seats. Ron Ernwien the owner of the Double A transportation said that " Believes that Worcester is planning to get the drivers that drive the special needs bus to move to the bigger buses and the special needs buses will be driven by the National Guard. The school district has stated that the National Guard members will be helping to transport 100 students. Governor Baker has come out and said "We asked a bunch of communities if they'd be interested in having Guard people drive vehicles for them, especially the smaller buses." " A bunch of communities said if you can figure out the legal issues and the paperwork and all the rest, that would be great." Some of the school districts around the country have offered bonuses and raised wages in order to recruit and retain bus drivers amid the shortage.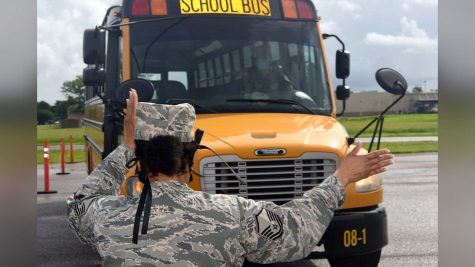 Leave a Comment
About the Contributor
Hamad Al Assaf


Hello my name is Hamad Al Assaf and I'm a student that is currently enrolled in journalism class. I learned some of the basics about journalism...