HOMELESS ENCAMPMENT BEHIND WALMART DESTROYED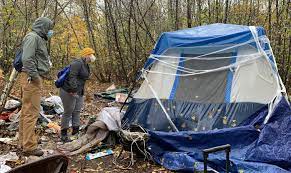 The city demolished a homeless encampment behind the Walmart on Tobias Boland Way on Wednesday after Walmart asked them to.
Tents were thrown away and many of the residents were sent packing.  They were given 20 minutes to grab what they could before bringing in the trucks and clearing it out. Everyone who was living there, as derelict and inadequate a situation as it was, is now in a worse position. 
"So, um, a lot of us lost our sh*t. I lost my sh*t. I was in the hospital at the time, so all my stuff was gone. " said Steven, one of the displaced. 
"We had to start over. It sucked, you know? Cuz they didn't give us no warning. They gave us 20 minutes to grab our shit. So we grabbed what we could grab but we had to go. I lost all my clothes. They were going from tent to tent, throwing it in the back of the truck. We've been here for a couple years now, so all the stuff we accumulated over the years. And then you've got the outreach people always coming in and bringing us food and stuff, and they fucked all that up too."
"It was just f*cked up what they did to us," Steven said. "They didn't give us no warning. Tent, clothes, shoes, all our camping stuff, cooking supplies. Like stuff that we really couldn't grab right away. All gone."
"I am in agreement that living in a tent outside where there's no proper sanitation, no security, is not ideal for anybody. I support that idea," he said.  "However, I think if we don't have adequate facilities that people are willing to access, then the solution of simply bulldozing people's belongings, and moving people on to yet another location is not the answer."  – Erik Garcia, a UMASS doctor.
According to the city's director of public health, nothing was "demolished". The explanation she gave was that the cops The explanation was that the cops and the cop-adjacent homelessness team in City Hall went to the camp and asked the residents to leave and remaining belongings were thrown away. The residents were warned about the demolition several weeks ahead and then it was carried out. Dan Cahill, in charge of the quality of life team, said everyone took their belongings with them. They only threw out two or three tents that were vacant, he said. Bill Shaner, the punisher of this article, pointed out that this statement is evidently contradictory to what residents , as well as what other people have told him off the record. 
Apparently what prompted the whole demolishing was complaints to the city by "neighbors" including Walmart and people who use the nearby bike path who also complained about needles,etc. 
The problem with this forced relocation is that the residents get
There are technically three parties involved in the demolition. Part of the encampment was on Providence-Worcester Railroad property, part of it was on state property, and a combination of City Hall employees and police officers removed the people there. So it was a combined effort of the city, the state and the railroad.
 "There was like maybe 40 of us in there and the cops came in and there was maybe 30 cops. They were all like pack it up it's time to go. It's time to go. If you're not out of here in 20 minutes, we're taking everything… So people that weren't there to get their stuff… They came in with trucks and f*ckin plows and plowed through that sh*t. Took everything away. dispersed to other encampments and more complaints will  lead to more forced relocations like this one.
The question of what this accomplished is an open one. Breaking up a homeless encampment only drives people further away from help and into increasingly vulnerable positions. Erik Garcia, the UMASS doctor quoted earlier in the article, said he called around to the shelters and asked if they had any new check-ins Wednesday night from the encampment and none of them did. Cahill, the quality of life team guy, said three of the people they vacated checked into the Hotel Grace, a temporary shelter open only during the colder months. Either way, most of those people just had to find somewhere else to stay, like Steven did. All the city did for Steven was throw out his belongings.
"Options were offered."
Credit : "Options were offered" – by Bill Shaner – Worcester Sucks and I Love It
Leave a Comment
About the Contributor
Hamad Al Assaf


Hello my name is Hamad Al Assaf and I'm a student that is currently enrolled in journalism class. I learned some of the basics about journalism...